Thomson Reuters' ScholarOne Manuscripts clients represent journals and publishers at the forefront of knowledge. Thanks to advancements in technology and communication over the past several years, research that was once confined to print is now disseminated to scholars, media and the public through dynamic and easily accessible avenues. From interactive websites to mobile apps and social media to podcasts and beyond, Thomson Reuters wants to highlight those pioneers who share our vision to advance research science, technology, education and medicine through innovative solutions. Check out the winning entries below!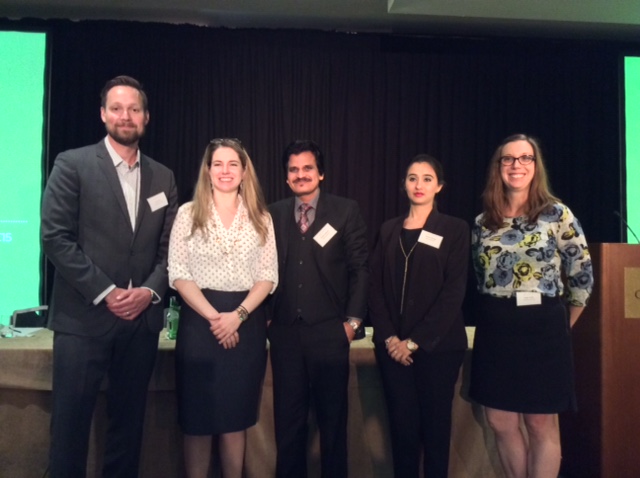 ScholarOneVision Award winners at the ScholarOne User Conference 2015.  From L to R: Josh Dahl, Head, Publisher & Associations; Margot Puerta, Molecular Medicine; Muhammad Imtiaz Subhani and Amber Osman, South Asian Journal of Management Sciences; Paige Angle, Director, Strategic Client Solutions. Not pictured: Ron Goldfarb, IEEE Magnetics Letters

First Place Winner: Molecular Medicine (Margot Puerta)
I was driving to work listening to one of my favorite podcasts when I got to thinking about our journal's web presence. Our website, while functional in pushing out information needed an update. It didn't engage users in a way that would ultimately benefit biomedical research. We needed a change.
While my Editor was supportive, he was also realistic. We needed data to guide us in our strategy. There were (and continue to be) a number of communication technologies to choose from with low barriers to entry. However, just because we could utilize these technologies didn't mean we should. Which technologies would we implement and why? Our Editorial Office consists of a limited staff and jumping headfirst into every available technology would be unwise. We needed a sustainable model.
I read the book, Groundswell: Winning in a World Transformed by Social Technologies by Li and Bernoff (Forrester Research, Inc.). This book provided ideas on social technologies and how to harness them to their advantage. Based on techniques in this book I generated and analyzed an end-user survey in order to gauge interest in various communication and new media technologies for the journal's scientific audience. This audience included a portion of members from the ScholarOne user database of the journal Molecular Medicine. Two hundred forty-six responses were received from this community. These responses were compared to baseline data from average U.S. adults, available via an online tool from Forrester Inc.
Resulting data indicated our scientific end users would be interested in activities that promote categorization, organization, rating and consumption of information. These activities could be translated into technologies such as: discussion forums, rating systems, short polls, the ability to tag, sorting of papers by topic, and additional distribution mechanisms (for example, e-readers).
With this data I approached our senior management team. I described the need for an improved website, described the research survey results, presented a plan for which technologies to use and why and the desired new website outcome with some rough estimates for measures of success. I received buy-in from senior leadership and a new website was launched.
Since that time we have been able to generate an additional set of members who log in and create user profiles through our journal's website. The majority of these users are new to us (not prior journal authors or reviewers attained/maintained through the ScholarOne portal). As of October 2014 our membership had increased 70% over the same time the prior year and we reached our 2014 membership goal two months ahead of schedule.
Upon account creation users may select a disease specialty. We incorporated this option in our sign up process based on the survey data suggesting our end users gravitated towards organizing and tagging activities. This is quite useful to us since Molecular Medicine publishes manuscripts on a variety of topics and being able to sort users by specialty (Cancer, Infectious Disease, etc.) gives us the ability to target separate user groups with specific messaging. We have also improved upon our general communication with our users by instituting monthly email digests which include the profile of a recently joined member, recently accepted paper, and an additional hot topic (meeting announcement, award or prize announcement, new video content). Open rates for these emails are consistently at or above industry open rate averages.
Based on the survey data our end users were interested in consumption of information. We reviewed our manuscript content and decided to expand upon it giving users additional materials to consume. We added video content generated by scientific meetings we support (Centricity Series, World Congress, Merinoff Symposia). We added two awards – the Ross Prize in Molecular Medicine and the Anthony Cerami Award in Translational Medicine, both of which honor scientists at different career stages. Content is generated from these activities as well – videos from the Ross Prize Mini-Symposium and Monographs from the Cerami Award. Feedback from both has been positive. We even received an email from a university medical department stating they were changing their journal club to focus on papers more like the Cerami monographs – stories about life conducting biomedical research and advice to those starting out.
In addition to diversifying content and distribution mechanisms (a 20th Anniversary flipbook is available as are Facebook and Twitter accounts) and improving member relations, we have added the ability to tag manuscripts on the back end of our website allowing us to pull pertinent content to web pages as needed.
The data obtained through the original survey represents a snapshot in time and communication technologies are continuously evolving. As junior scientists and moreover, millennials, advance in their careers, additional new media and social technologies may be demanded of publishers. With this in mind we have included in our website the ability to host blogs, private and public group workspaces, and document storage and sharing. We anticipate an increased demand for these tools in the future.
While the current version of our website has morphed from what it was a few years ago, we continue to use data and metrics to evaluate performance, website upgrades, and new technologies that may lend additional value to the journal and ultimately contribute to disseminating and advancing biomedical research. We also plan to apply what we have learned to our new journal, Bioelectronic Medicine.
References:
Li C and Bernoff J. Groundswell: winning in a world transformed by social technologies. Boston, MA: Harvard Business Press; 2008. pp. 41, 9.
Forrestor Inc. [Internet] Cambridge (MA): copyright 2011 [cited 2010 Sept 24]. Available from: http://www.forrester.com/empowered/tool_consumer.html
Puerta, M. 2013. "Redesign of a Website: From Concept to Execution". Editorial Office News. 6:5, 8-10.
Puerta, M. et al. 2013. "Using Social TechnographicsTM Profiling to Assist in a Journal's Social Strategy." Editorial Office News. 6:9, 2-5.
Editorial Office News is the official newsletter of the International Society of Managing and Technical Editors (ISMTE).
Additional URLs:
http://molmed.org/events/world-congress
http://molmed.org/awards/ross-prize
http://molmed.org/awards/cerami-award
http://molmed.org/20th-anniversary-issue
Second Place Winner: IEEE Magnetics Letters (Ron Goldfarb)
Most journals have editorial boards. Many are populated with illustrious individuals of symbolic value. Some contain personages who are, in fact, deceased, but no one has yet noticed. In the best of circumstances, editorial boards do meet occasionally to advise and consent, but mostly, they do nothing. Nevertheless, members of editorial boards value the opportunity to serve their communities and to bolster their resumes.
This is an account about another kind of editorial board, a working editorial review board.
Frenetic activity in ultra-competitive sciences has created the want for rapid-publication journals. Web-based solutions for manuscript submission and peer-review, such as ScholarOne® Manuscripts, have aided and abetted this trend, presumably resulting in the progress of science and the betterment of mankind. ScholarOne® Manuscripts has been shown to reduce the time from article submission to rejection ("sub-to-kill" time) from three years (under the traditional model of manuscript delivery by post and manuscript ageing on the reviewers' desks) to a few short months (with the ScholarOne® Manuscripts nag function set to the maximum).
The weakest link in this tidy rapid-publication scheme is slow reviewers. Often they are the same members of a research community who demand rapid acceptance of their own articles. Often they are the same very busy researchers who attend conferences for just half a day, only long enough to deliver their invited talks, and then leave because learning from others really is a waste of their valuable time.
So what is a new journal to do? A new journal trying to compete with established journals. A new journal without an Impact Factor. [Author: "I want to publish only in a journal with a high Impact Factor. Before I submit my article, what is your Impact Factor?" Editor: "We want to publish only articles that will get a lot of citations. Before we review your article, what is your personal citation h-index?"]
Anyway, the ability to offer rapid publication is definitely a plus for a new journal. How to make it happen? Here is where an editorial review board (or "ERB") can make a difference. The members of the ERB are chosen by the editor. Often they are pre-tenured, junior faculty members. Ideally, they are individuals who owe the editor some serious favors. They agree to inform the editor immediately, if not sooner, whether they will review an article. And if they agree to review, to do so within 10 days. ScholarOne® Manuscripts facilitates these communications.
Members of the ERB have two incentives. (1) The articles themselves are short, because, in the case here, the journal is a letters journal. (2) The ERB members are fed lavishly at festive dinner meetings. For non-performing ERB members, a dinner meeting sometimes turns out to be their "Last Supper."
Each reviewer's report is graded by the editors using the ScholarOne® Manuscripts grading function. At the end of the year, ERB members who have a record of sustained timeliness and quality are promoted to senior members of the ERB. When the need for additional associate editors arises, the editor invites senior members to assume that responsibility. The names of ERB members and senior members are publicized on the journal's website.
So, if they are publicized, what happened to anonymity? When it comes to peer review, anonymity may be overrated. Most journals use single-blind anonymity, where the reviewer is shielded. Some journals are double-blind, where reviewers are not embarrassed by their cluelessness and authors are not embarrassed by their lack of rigor.
However, some journals let everything be known, with anonymity for none, with civility for all. [For example, in a controlled experiment, a typical anonymous reviewer's withering comment, "This article is a piece of trash," was, in the case of named peer review, rendered as a polite, "This interesting article could become acceptable for publication with the addition of the references listed below. Please note the correct spelling of my name."]
But, to the point about anonymity: Each discipline covered by the journal is represented by several members of the ERB. In addition to members of the ERB, the journal invites selected anonymous reviewers. (The auto-suggest function in ScholarOne® Manuscripts is a big help.) The reviews that arrive promptly are used by the editor; nonresponsive reviewers are politely uninvited using the ScholarOne® Manuscripts "smite" function. The result is that, while authors may suspect who reviewed their articles, they are never sure, nor can they tell whether their suspect is Reviewer 1 or Reviewer 3.
Authors want to make their profound discoveries and insights known to the world ... now! [We should not be fooled by the dispassionate, unbiased tone of their text, "It was observed that ... blah blah blah." That worked for 19th Century scientists, before the "observer effect" was recognized. Today's authors pretend to "observe" far too much.]
Two additional practices help in rapid publication: limited times allowed for author revisions and rapid posting by the publisher. Authors are allowed two weeks to respond to reviewers' comments. If they take longer, it indicates that the revisions are nontrivial and the revision will be like a new article. They must resubmit their work as a new article, which restarts the clock. ScholarOne® Manuscripts makes the process easy.
Nowadays, most publishers outsource formatting and mark-up to low bidders in countries such as "Elbonia" (of Dilbert fame). To compensate for the inevitable delays required to asymptotically approach a version suitable for publication, smart publishers have started posting preprints of accepted articles. They count the dates of posting as the official publication dates, which dutifully appear in the final, typeset versions of the articles.
The use of an ERB, enforcement of author deadlines for revisions, and rapid posting have made IEEE Magnetics Letters the fastest of all 123 IEEE journals.
(969 words; 1000 words maximum)
http://www.ieeemagnetics.org/index.php?option=com_content&view=article&id=48&Itemid=93
Third Place Winner: South Asian Journal of Management Sciences (Imtiaz Subhani)
South Asian Journal of Management Sciences motto 'rationality, novelty and continuity' is based on the advance research learning, knowledge sharing and its innovation through dynamic technology and communication streams. SAJMS basic foci have always been to implement new ways for disseminating research via innovative solutions. SAJMS has well-integrated with all research networks to provide better research content with more accuracy and resting on high-quality publication standards. SAJMS reflects the ScholarOne's shared vision by collaborating with one of the best cutting-edge innovative solution, which is ScholarOne manuscript submission system by Thomson Reuters, interactive SAJMS website, social media communication and publicity of the journal through Facebook and Twitter; SAJMS will now be accessible on apple and android apps too. We have specialized and active SAJMS editorial team adopting and adapting to the new technological tools. Moreover, SAJMS has also collaborated with Google citation metrics to provide its users prompt Citation score of all its published manuscripts and also using its own innovative 'Quick Index' calculator to provide accurate index scores of its published articles. For SAJMS to function efficaciously, we are now actively connected with most of the research platforms like ORCID, Turnitin, CrossRef, AJE, Thomson Reuters Reviewer Locator, RepEc digital library to deliver the best research output. We are currently indexed with Ulrich Periodical Directory, Ebscohost, JEL, DOAJ, Index Copernicus, Scopus (under evaluation process), Gale Periodical, Scirus Elsevier and Cabell's Directory which shows our dedication to embrace more quality in our research performance and global coverage. As research data is the prime asset of our journal, we have reached out to secure it through creative commons license and to avoid any fraudulent activity, which has brought the digital research in a fix; SAJMS has set its staunch publication ethics policy and pretty soon we are joining hands with COPE for the same purpose. We welcome the open access research community and SAJMS is also freely open to all its readers, users for use and distribution; we are set to be an active member of Open Access Scholarly Publishers Association. Now, the scholarly publishing is revolutionized to a realm of data security, connectivity and partnerships relying on digital space, Office of Research, Innovation and Commercialization-ORIC, Iqra University-IU the publisher of the South Asian Journal of Management Sciences-SAJMS has completely revealed its processes online with transparency, which also makes the authors understand the concept and execution of our journal, which are adapting to change time after time due to digital transformation. Last but not least, the Editor-in-Chief and the Managing Editor of SAJMS are dynamic participators in the various on-going internationally renowned research webinars, training sessions and workshops in particular to scholarly publishing world, which enables SAJMS editorial team embrace the same motivation, learning experience and determination to perform better every day.
In short, South Asian Journal of Management Sciences endures the quality of progressing with time by utilizing the right research data, technology and communication tools, at the right time, at the right place to the right people, which translates a true Thomson Reuters ScholarOne Vision Award. We just don't say it; we deliver it with an aspiring attitude.
Website : www.iurc.edu.pk/sajms